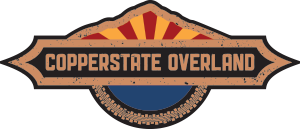 Join Us For The 9th Annual
Copperstate Overland
Date: October 7 – 11, 2023
"Point "A" to Point "B"… That's what our vehicles do for us, right? But what if they did more? Instead of looking at blacktop straight ahead through the windshield or behind you in the rearview mirror, you were able to explore the in between places – out the side windows.
Copperstate Overland is a fully-supported on-road/off-road driving adventure open to vintage off-road vehicles. Modeled after the renowned Copperstate 1000 vintage car road rally, the Overland provides a fully catered, first class, off-road driving experience.
Each year a new route will cover miles of beautiful desert terrain, verdant river valley and alpine landscape throughout the state of Arizona and beyond.
As the vintage off-road vehicle hobby continues to thrive it has evolved into a lifestyle as more and more collectors are driving and enjoying their vintage off-road vehicles. The Copperstate Overland is the epitome of such a lifestyle event and allows participants to enjoy four days of glorious driving with fellow enthusiasts while having only the sheer exhilaration of the open trails to contend with, as all the details have been handled by our capable staff.
The eligibility model year requirement is 1979 and older. Special consideration will be given to exceptional vehicles manufactured after the 1979 model year. All vehicles are subject to the same standards for admission and acceptance.
Questions? Please contact Vicki at (602) 307-2007 or via email at vicki@mensartscouncil.org.